RaluFineArt – A Class Of It's Own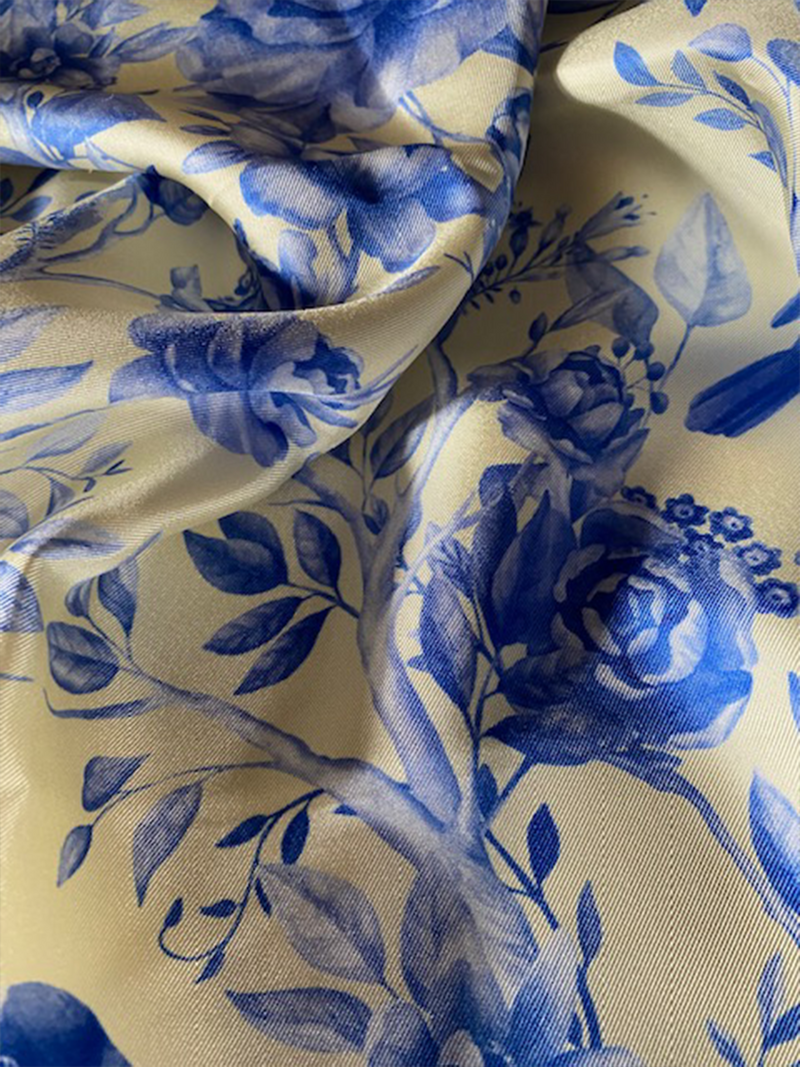 Why RaluFineArt Scarves?
RaluFineArt thrives on slow fashion core values. Each scarf is designed in Belgium and made in Italy exclusively from the best silk, they are highly desired luxury items.
The scarves have one of the greenest production process, a long shelf and lifetime. Our designs combine classic, modern and romantic elements.
Produced in limited series our scarves are treasured finds for both ladies & gentlemen. So we offer sustainable luxury fashion, without compromise in quality, comfort and design.
They inspire clients to choose other fashion items to match 'Ralu' scarf. They compliment items of clothing, jewelry, accessories & perfumes. They help you diversify your choice in search of a perfect gift.
We are trusted & since inception we internationally shipped our scarves to 26 states in United States, United Kingdom, across Europe, Australia, Singapore and Caraibean Islands.
We are recognised and show cased by high-end European media.
Meet the Founder
I am Raluca Malina Catoiu or simply Ralu, the founder of RaluFineArt and I am thrilled you are here to look at my artwork.
I started my life in an enchanted land, bordered by the Danube, washed by the waves of the Black Sea and dwelled by the forests's fairies of The Carpaths and by the sunny hills of Transylvania.
I experience love, beauty and charm as powerful forces of life and started to capture them through photography.
Soon I began to explore the entire world in search of more inspiration and adventure, from the lowlands' meadows in bloom to the mysterious tropical jungles, from mountains' mystic springs to the smooth waters of the northern beaches, from the fantastic Atlantic islands to the soothing Mediterranean pines' shadow, from the highland's magical nature to the charm of the Roman and Parisian strolls.
I distill my quest's findings through romance, travelling, emotion, fantasy and capture them on pure silk.
The love of life, beauty and charm inspires each of my scarves, influencing my choice of fabric, color and print.
Each silk scarf captures the feeling of a magic place, a treasured moment of a charming encounter as my gift to you.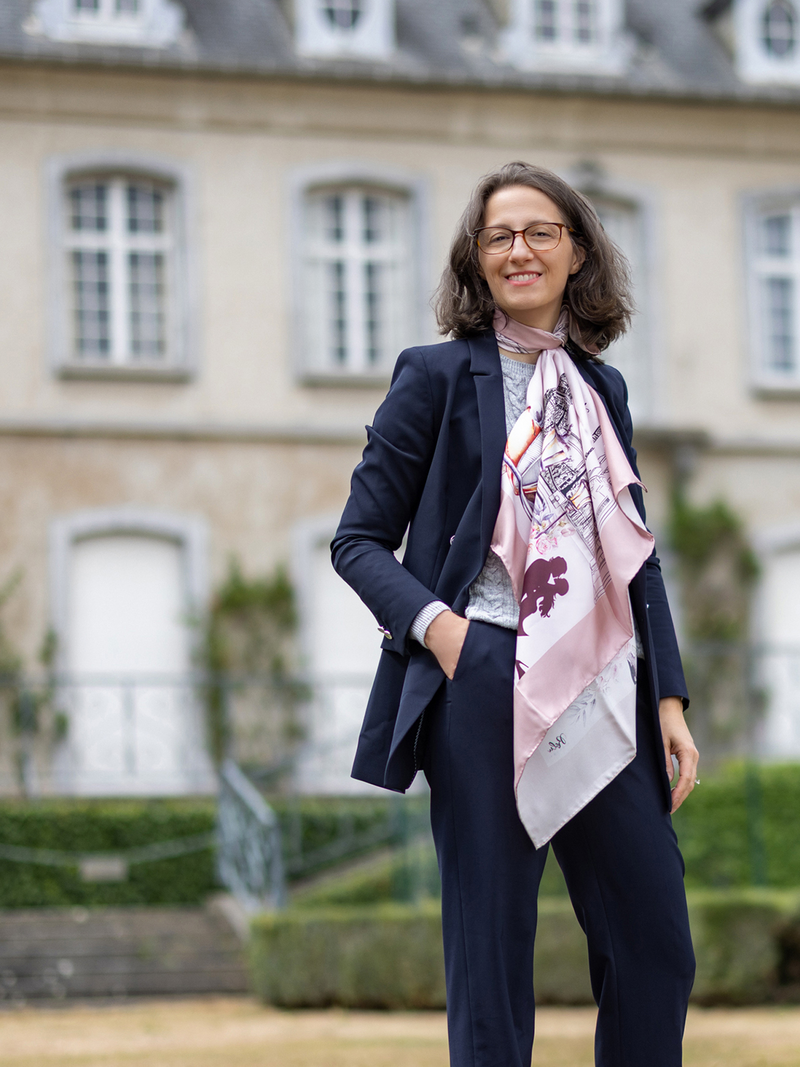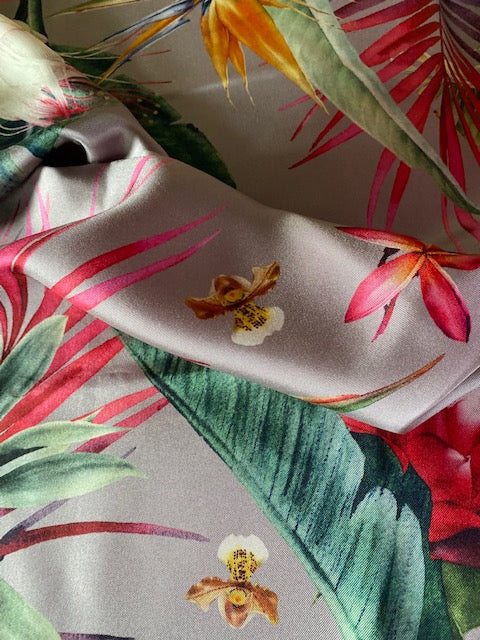 The Luxury Brand
At the heart of our brand stands the power of self-expression & individuality of both ladies & gentlemen.
Our scarves are, beyond fashion accessories, a canvas for personal creativity.
Each scarf is a masterpiece, carefully designed and crafted.
Our unwavering commitment to quality & sustainability is our trademark.
Our scarves and pocket squares are made exclusively from natural silk, the most luxurious and timeless fabric.
We protect the fragile fabric of the world through our green craft.
We stand for hope, comfort, nature, balance, delicacy, elegance & grace.
Our scarves are classic staples that everyone dreams to have in their wardrobe.
We complete any attire and infuse your life with style & charm.
Our scarves last a lifetime, becoming treasured heirlooms that can be passed down through generations.
We are creating a secret and enchanted universe for every woman and man who wears our accessories.
We design to embody beauty, charm, nature and fantasy.
€139,00
STOP and STARE: A Symphony of Elegance The Pink Peonies Serenade Silk Scarf is winning hearts with 5 Stars Review ⭐️⭐️⭐️⭐️⭐️
Is a masterpiece that will make you the talk of the city! Think you've seen it all? Think again!
You stroll into a garden party wearing this scarf, and the room falls silent in awe of your floral amazing scarf. And guess what? This scarf is so versatile that it can turn your casual outfit into a runway showstopper or your formal attire into a red-carpet affair!
So, dare to be different, darlings! Make this stunning scarf yours and sway into the rhythm of your own fabulousness! LIMITED EDITION
€109,00
Worried about windy beach hair? Fear not! This neckerchief will solve the problem. Feeling the heat? No worries! This Neckerchief has cooling powers that will make you feel as fresh as a dip in the sea! Say hello to pure Summer time bliss.

But wait, there's more! This vibrant yellow and blue Neckerchief is scientifically proven to make you 100% more awesome! Don't believe me? Just try it and be ready to get lots of compliments.

🔥 The beach is calling, and it's saying, 'You need this Neckerchief!' LIMITED EDITION


€149,00
Versatility Meets Chic Sophistication. The beauty of the NEW Nautical Chic Silk Scarf lies not only in its design but also in its versatility.
Drape it over your shoulders for an evening of seaside enchantment, tie it around your wrist as a touch of casual sophistication, or fashion it into a headband for a look that's both classic and contemporary. With each style, you are capturing a moment, creating a memory, and embodying the spirit of graceful adaptability.
Everyone needs to have a scarf like this in their life! LIMITED EDITION
€119,00
⚓️ From Neck to Wrist, embrace the style adventure and creativity that fashion allows with Asymmetrical piece by RaluFineArt.

Around the neck, the neckerchief ads a touch of seaside elegance paring beautifully with a nautical t-shirt.
But wait, fashion is not just about what you wear but how you wear it. In a style twist you can turn the neckerchief into an on trend arm wrist accessory adding a touch of playful personality to your look. And you can wear it as a pocket square too.

Dear Gents, embrace your own creative flair, explore endless possibilities and let this piece be your stylish co-captain this Summer .LIMITED EDITION
One Scarf Sold, One Tree Planted
RaluFineArt is a brand committed to raising awareness about endangered species and deforestation. By partnering with One Tree Planted Organisation, together we do something great for our environment. A tree is planted with every RaluFineArt scarf purchased.

2022 Highlights. Need some styling inspiration?